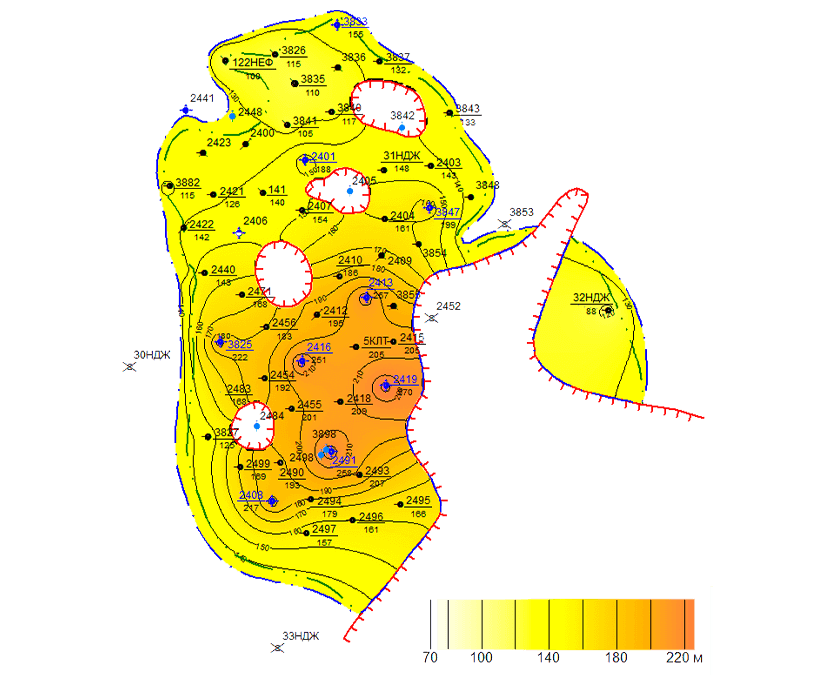 Goals and objectives:
estimation of energy state of productive formation;
history monitoring of weighted average reservoir pressure;
calculation of reserve recovery of different croppings;
waterflooding system effectiveness evaluation;
potential assessment of different croppings for further development;
There are different mapping techniques
Material balance method based on using material-balance equation for pressure calculation in non tested wells.
Conventional method based on various interpolation forms of limited number of measurements.
The range of results application:
optimization performance of waterflooding system;
well intervention designing;
revision of key well testing network.
For isobar mapping the following results of pressure measurements are used: indirect calculation of statistic levels detection with wellhead echometers, direct single measurement of bottomhole pressure, reservoir pressure according to the long-term well testing results.
Main types of interpolation:
Inverse Distance Weights (IDW) – calculates the value of cells using the average from the sum of measurement point values which are located in close proximity to every cell. The nearer the point to the center of estimated cell is, the more weight or influence its value has in the average computational process;
spline interpolation is calculation of cells value based on mathematical function, minimizing surface curvature, calculating the most flat surface, passing through all measurement points;
kriging - average weighted mapping technique which uses variogram as a weight function;
SIAM Company has considerable experience of isobar mapping for a lot of subsoil users including.
SIAM Company has considerable experience of isobar mapping for a lot of subsoil users including OJSC Tomskgazprom VNK, OJSC Orenburgneft, LLC RN-Yuganskneftegaz, LLC RN-Stavropolneftegaz, OJSC Samaraneftegaz and others.
Mapping is done mostly using «RN-KIN» software based on a compatible field database of clients.