Planning, support and interpretation of testing
Engineering center SIAM has extensive experience in planning, support and interpretation of different production testing, production logging, well testing in oil, gas and gas condensate wells. We use modern software together with generally accepted interpretation techniques. The result of work is reports with structured and reliable data. It allows increasing efficiency of well development monitoring.
Interpretation of production tests
It implies single measurement interpretation to monitor wells operating parameters. It includes dynamometering to diagnose a sucker-rod pumping unit, to detect dynamic liquid level in a pumping well and to measure pressure in blowing or injection wells.
To estimate reservoir pressure in inactive wells, static level and wellbore pressure measurement are also interpreted. Interpretation is made by means of proprietary software SIAMOS.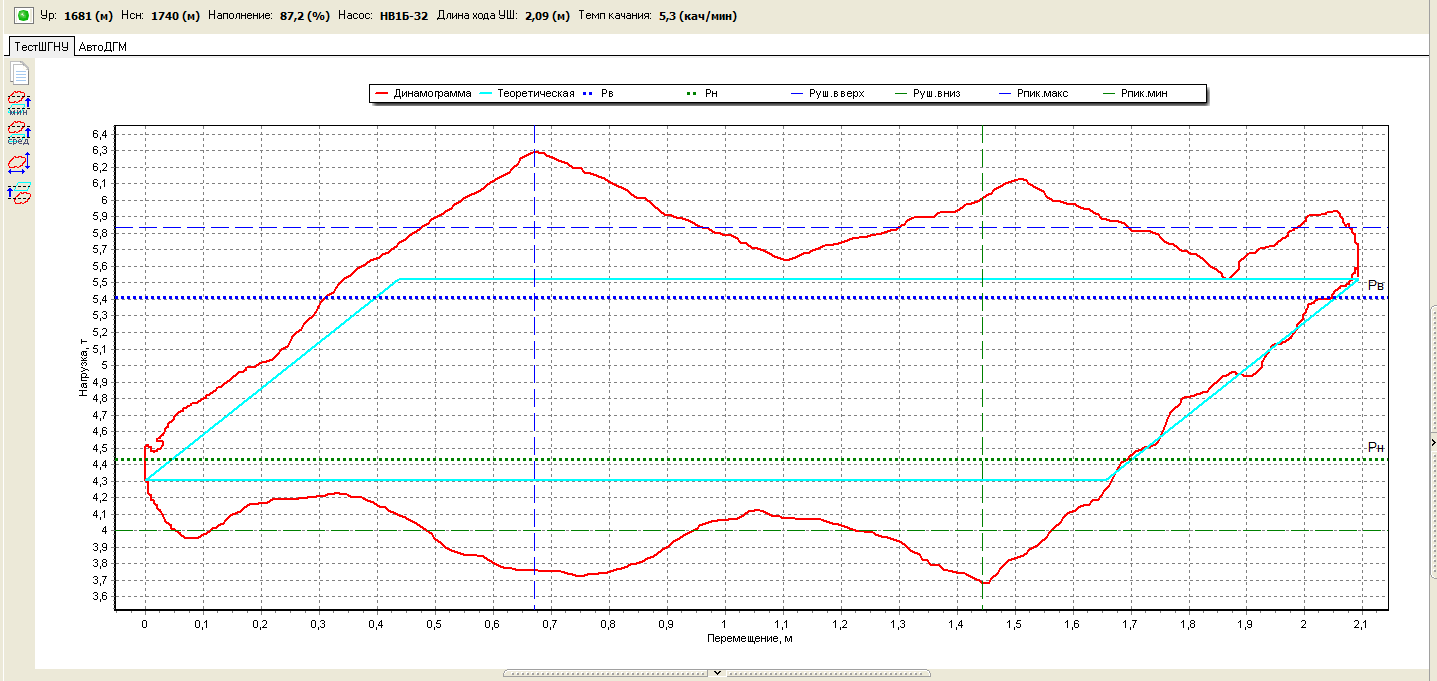 Dynamometer cards interpretation
The technical condition of a sucker-rod pumping unit is assessed. It allows prompt eliciting a problem in sucker-rod pumping unit operation including pump starvation or sucker rod breakage.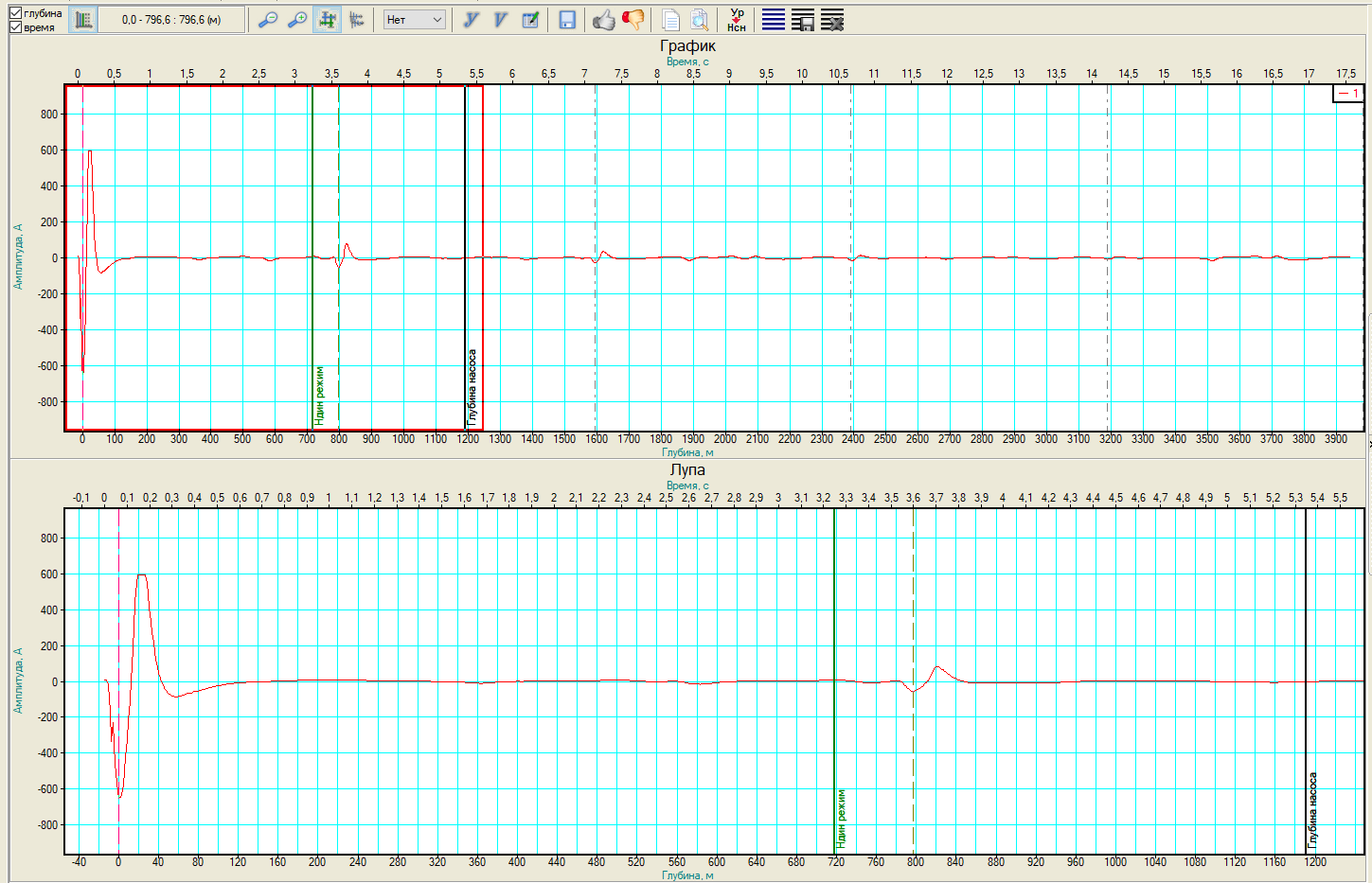 Interpretation of dynamic and static levels with wellbore pressure recalculation.
Measurements are taken with SUDOS echometers. They allow detecting variations in operating practices of a pumping well with a dynamic level or calculate reservoir pressure in an idle well on a static level.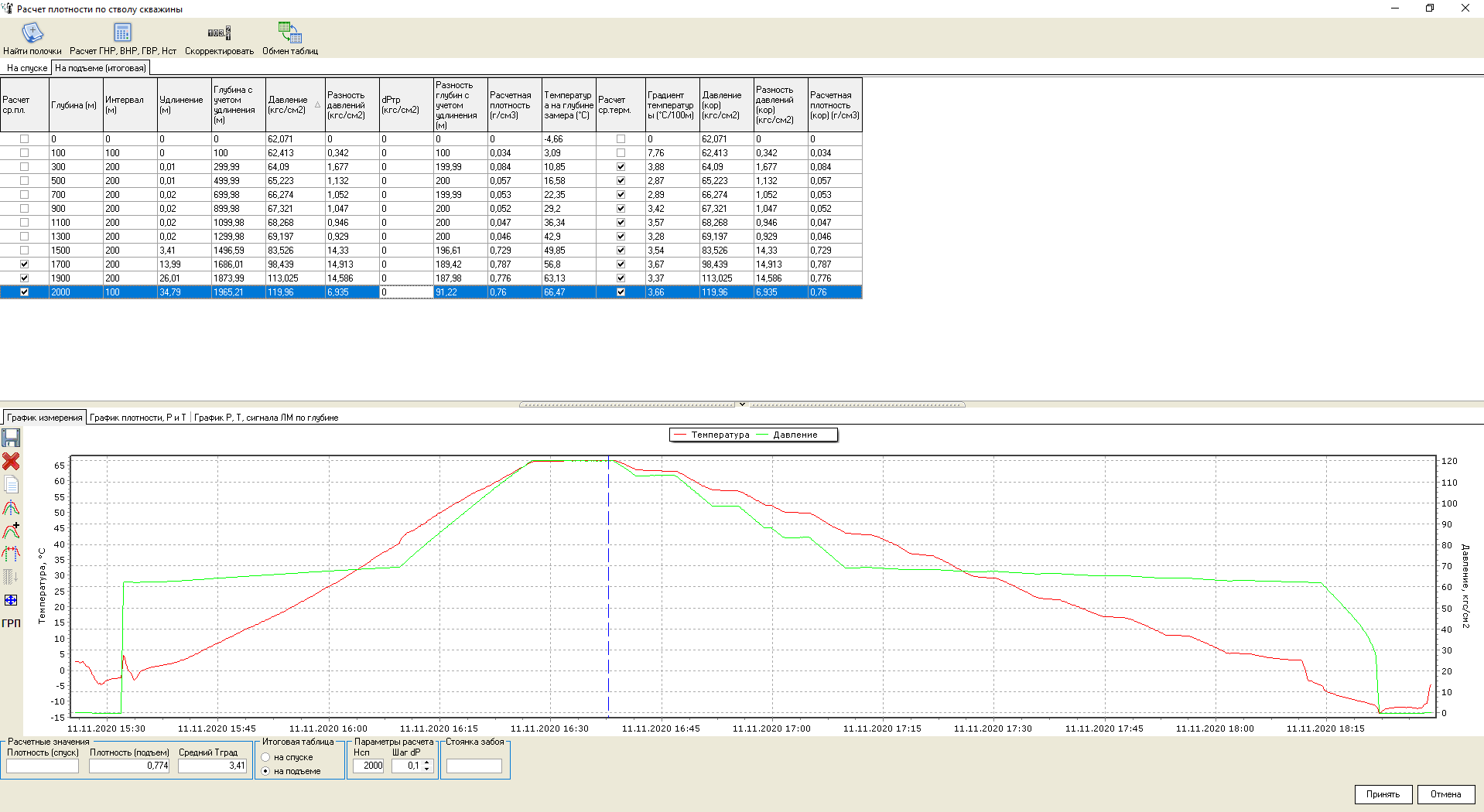 Interpretation of deep pressure measurements
Interpretation of tests in flowing and injection wells. Interpretation of bottomhole pressure tests in inactive and observation non-pumping wells. It is possible to determine fluid density along the length of the borehole by means of epure and recalculation of measured pressures at target depth, calculation of liquid level using pressure test in the wellbore, calculation and plotting of gas-oil contact and oil-water contact.
Support and interpretation of oil and gas well testing
These activities include designing and interpretation of measurements set to get well and reservoir parameters. Preliminary preparation of measurements and some calculations are made using proprietary software SIAMOS, the main interpretation is made using specialized software Saphir, Topaze by company KAPPA. Also, domestic software «SiamWellTest» by company Siam Geotest is introduced.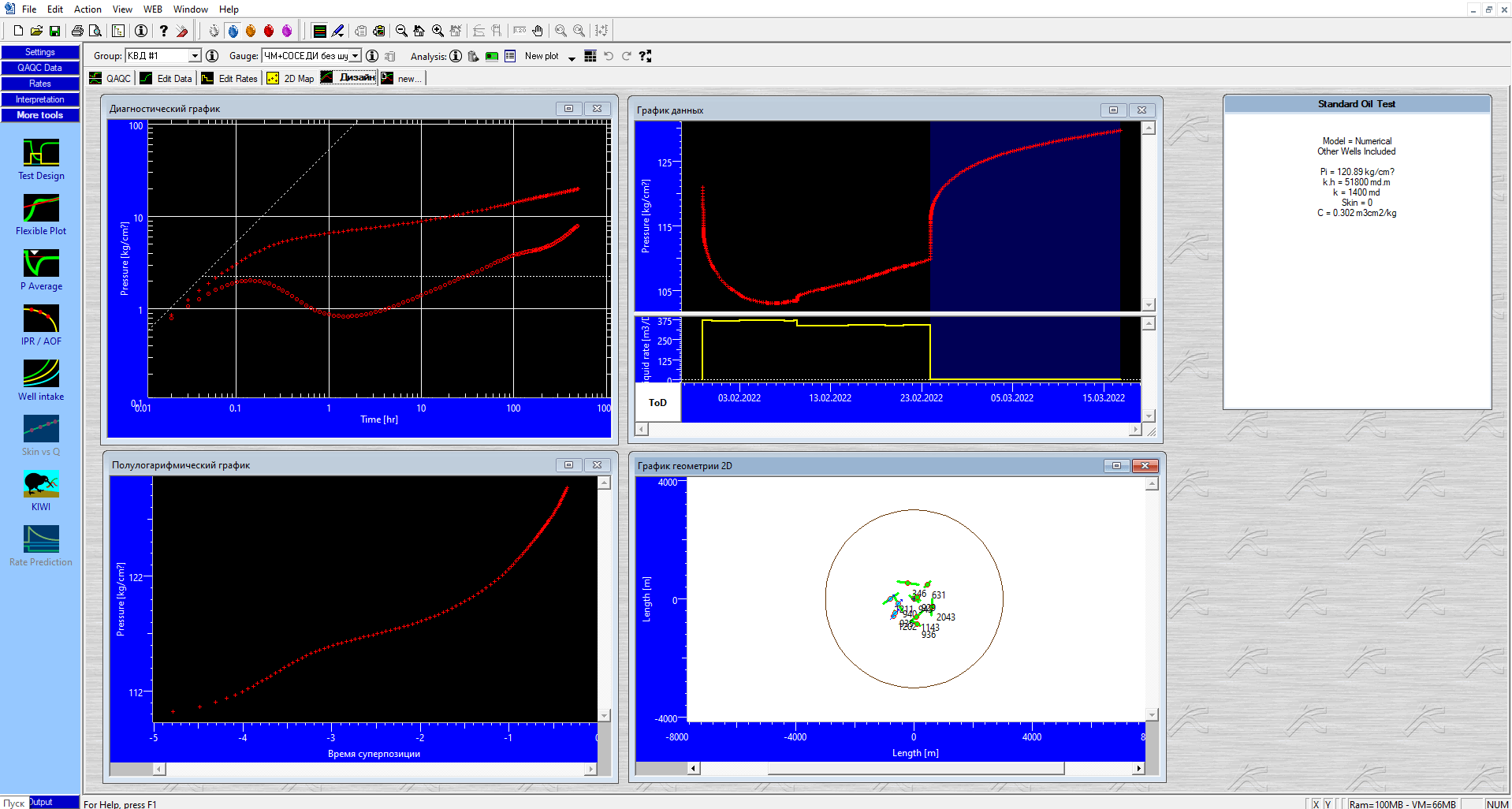 Pressure transient analysis design
Design is an analytical effort enabling to predict success rate and necessary duration of PTA (pressure fall-off curve, level build-up curve, pressure build-up curve).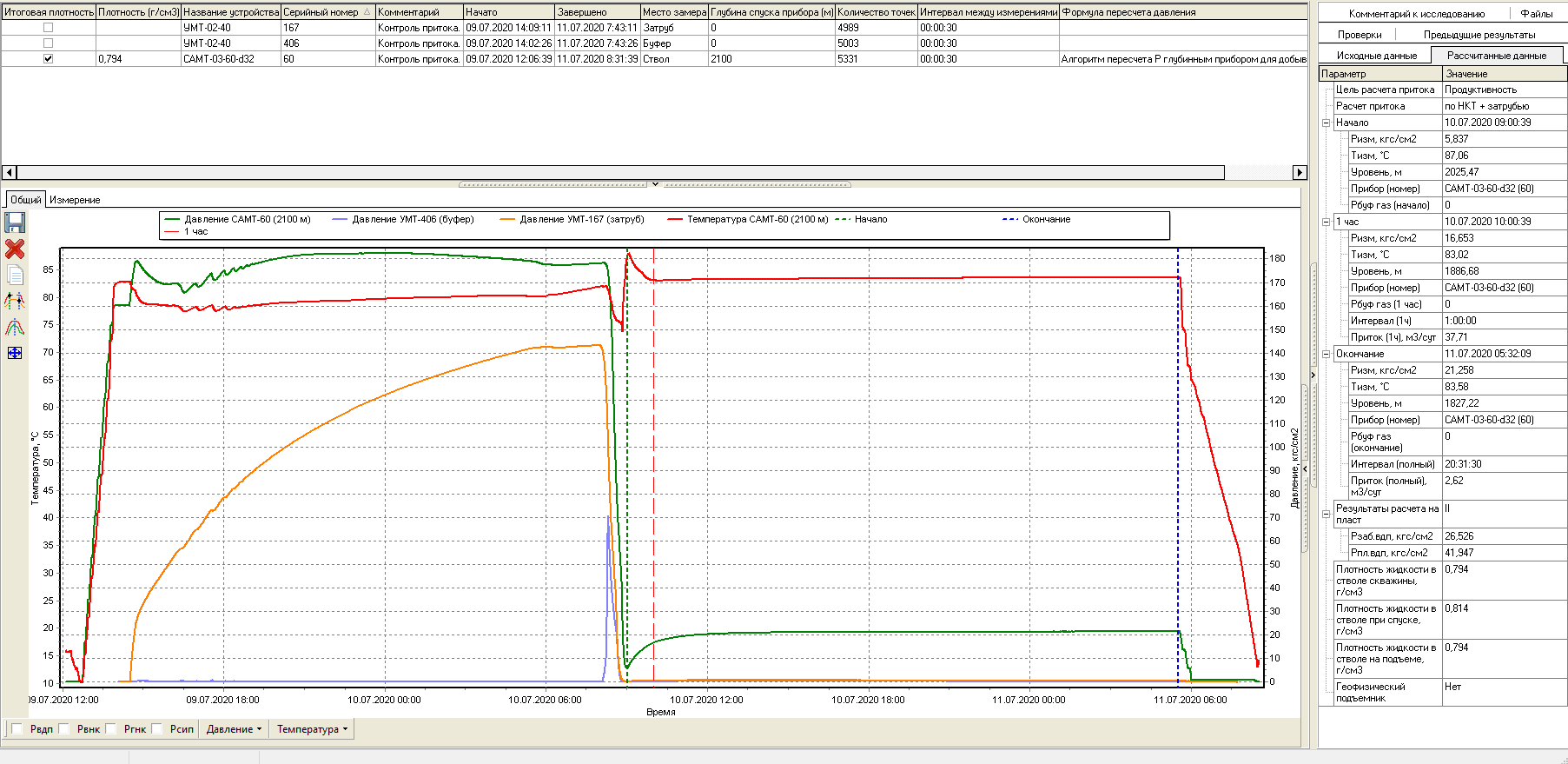 Interpretation of well testing while bringing to stable production after well intervention
To assess efficiency of implemented well intervention it is possible to conduct special tests of level build-up curve and pressure build-up curve while developing, f.e. by swabbing or gas lift. In this case tightness failure can be checked after cementing by negative pressure test or fluid influx and well flow index can be assessed with inflow control, some reservoir characteristics can be defined using special interpretation techniques (f.e. Slug Test).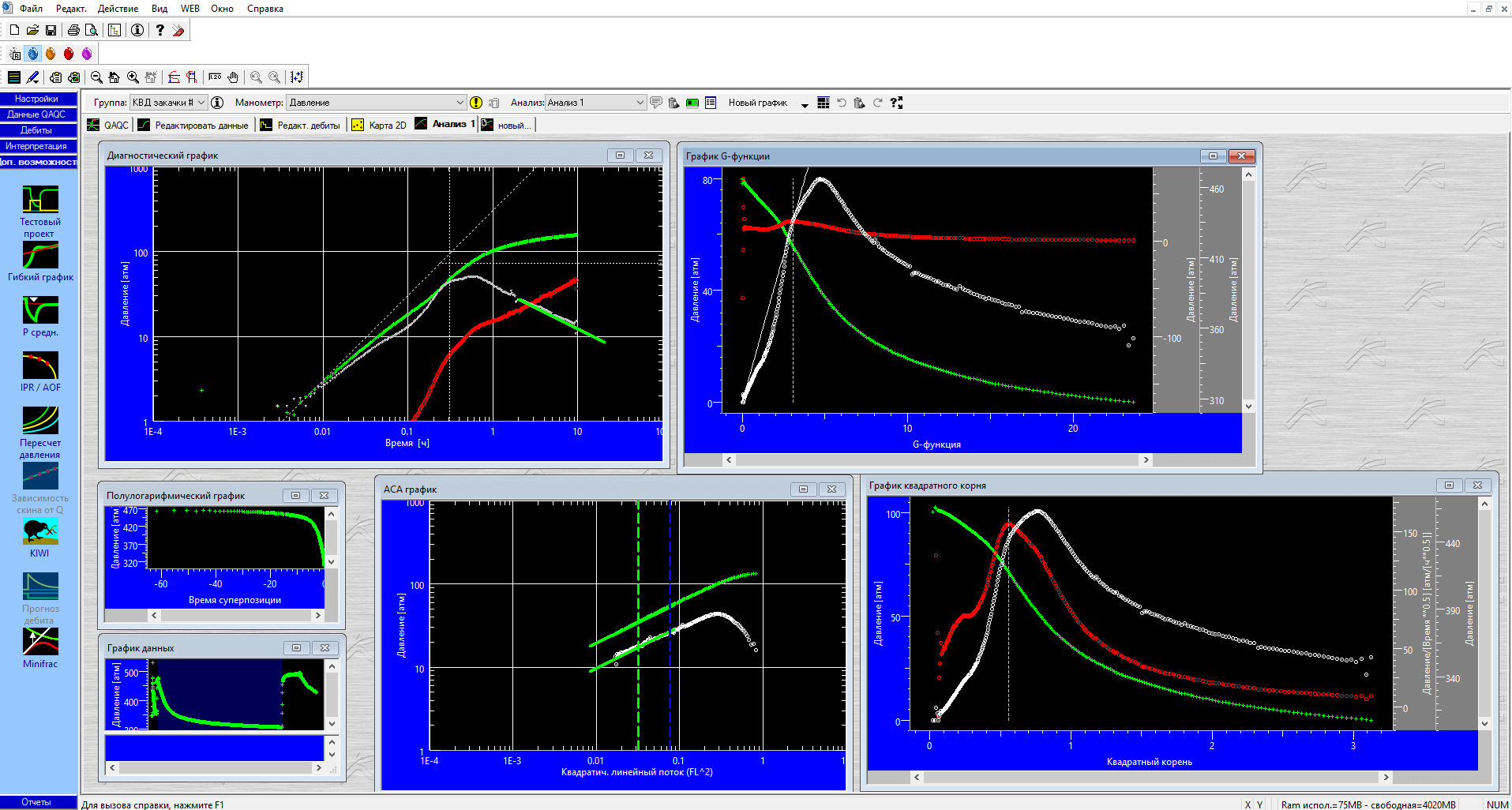 Diagnostic Fracture Injection Test interpretation
Usually before fracturing, DFIT is carried out for short-term fracture placement without its fixing with the following pressure fall-off curve. It enables to get fracture parameters.
Pressure transient analysis (pressure build-up curve, level build-up curve, pressure fall-off curve)
Conventional long-term testing- pressure build-up curve, level build-up curve, pressure fall-off curve – means pressure recording (level) in a flowing well with the following shutoff. Interpretation allows getting well and reservoir parameters. Analysis of measurements from ESP telemetry pressure sensor is also possible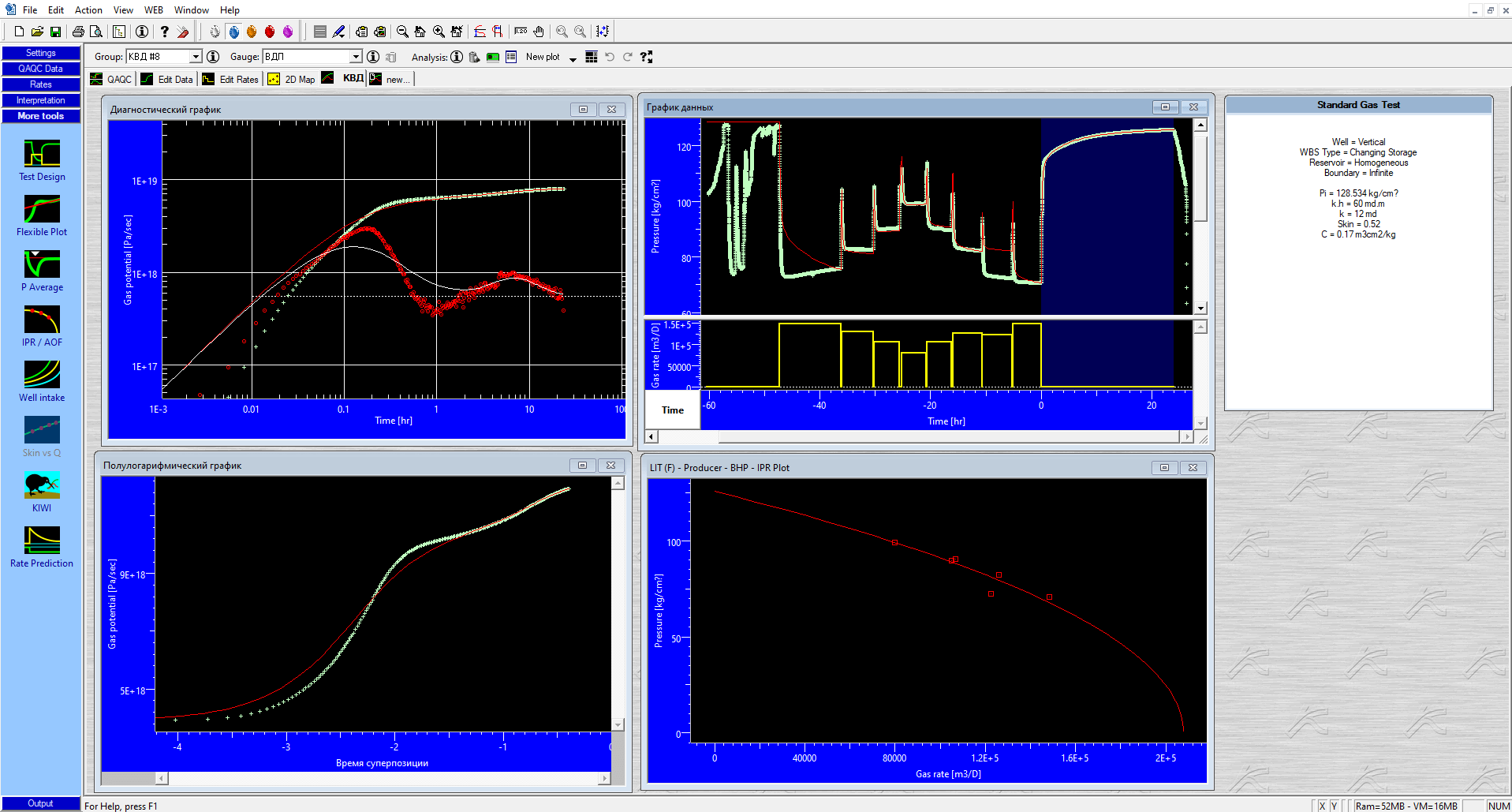 Inflow performance relationship
IPR curve is a testing on several steady states. It allows assessing reservoir pressure without shut off in oil and injection wells. IPR curve allows assessing fracture opening and closure pressure, injectivity index in injection wells. In gas wells IPR curve together with pressure build-up curve besides pressure build-up curve results allows calculating flow coefficient and absolute open flow.
Rate transient analysis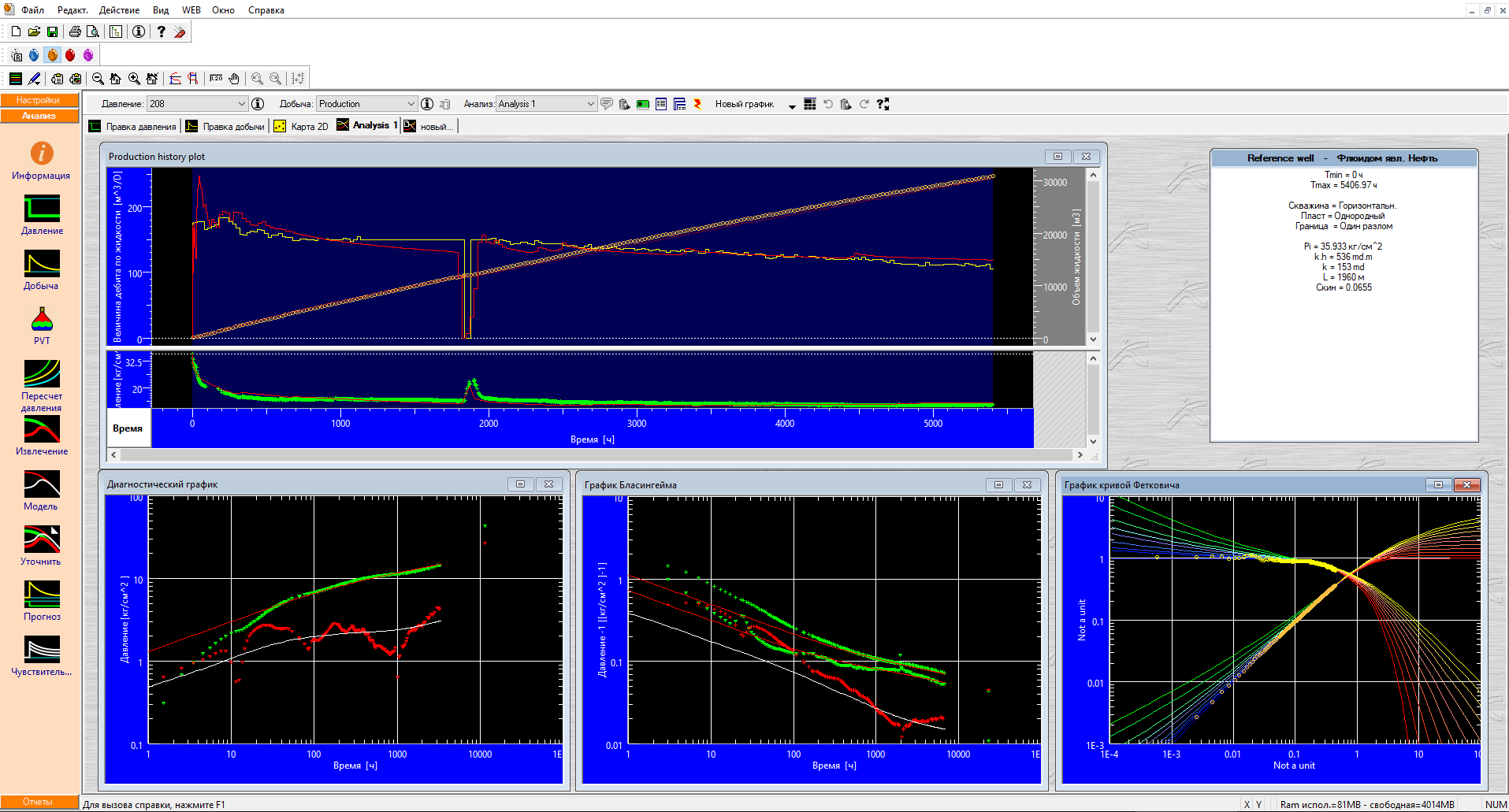 Goals and objectives:
estimation of reservoir pressure, reservoir properties and well characteristics (permeability, skin factor, fracture parameters, effective horizontal shaft length etc.;
prediction of production / bottomhole pressure fall-off. Evaluation of recoverable reserves;
estimation of adjacent well interference;
performance control of well intervention;
The range of results application:
optimisation of well intervention designing frequency;
updating and reservoir characterization;
updating and revision of hydrodynamic reservoir model;
revision of field development programme;
the revision of pressure communication between wells, boundary conditions;
Distinctive features:
no need for a well shut off;
interpretation using software Kappa Topaze;
Processing and interpretation of production logging
Production logging is used to monitor field development. It includes all types of surveys conducted in a well using slickline tools or modular tools and serves many purposes.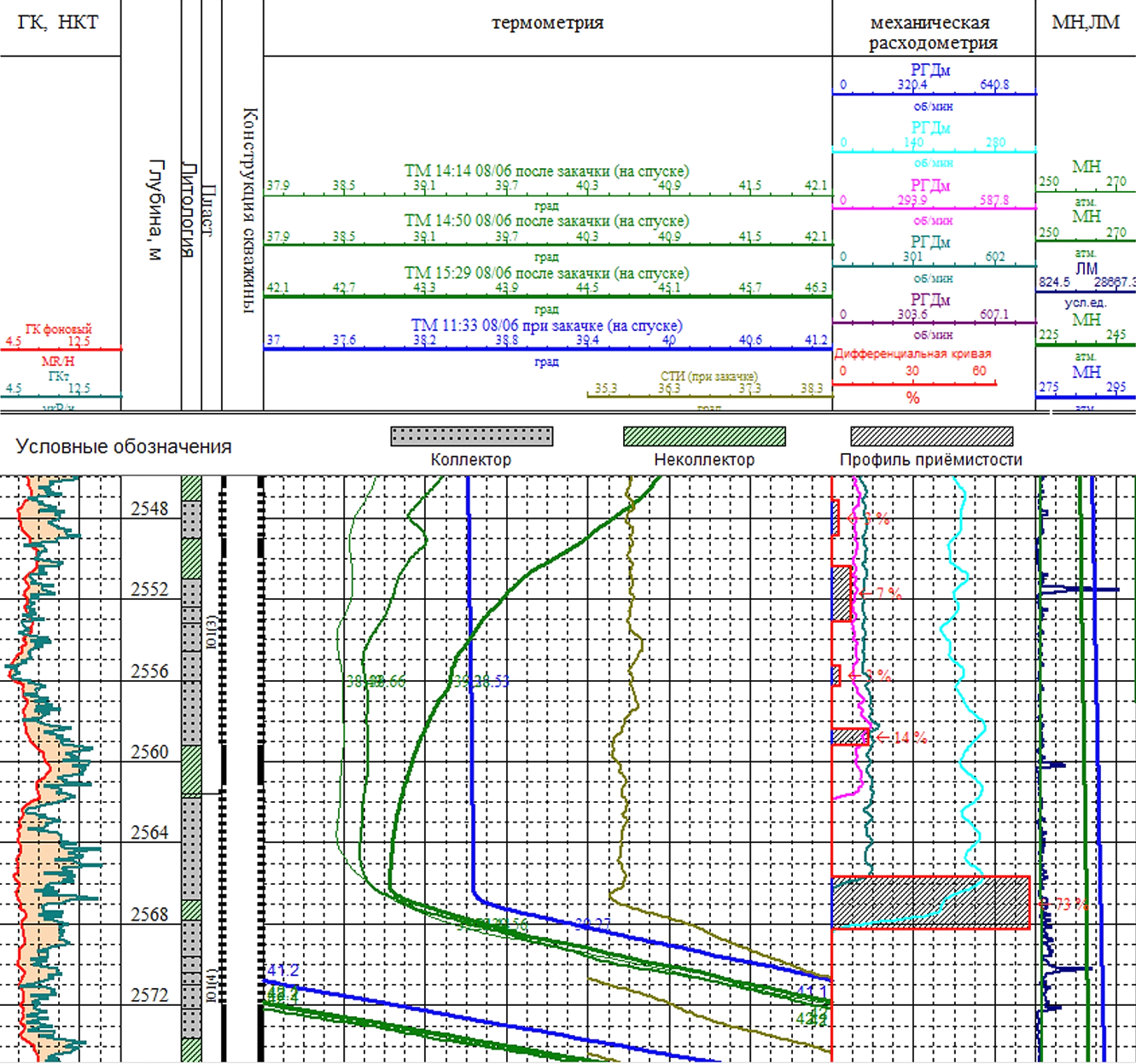 Main geophysical methods of development control can be classified according to logging character:
fluid reservoir content: different neutron method variations, oxygen logging of borehole fluid, gamma ray logging, electric logging;
determination of operating intervals, flow profile (injectivity and so on - flow type and fluid content in the wellbore of a flowing well: densitometry, resistivity metering, watercut log, hydrodynamic and thermoconductive flowmetering;
well health assessment: temperature Log, noise logging;
Experienced specialists of SIAM Company interpret production logging according to production string health assessment and injectivity using modern software.
Tasks:
determination of operating intervals;
evaluation of reservoir injectivity;
detecting channeling intervals in a well;
tightness failure detection of tubing, packer, casing, bottomhole of a well;
detection of fluid flow through layers.