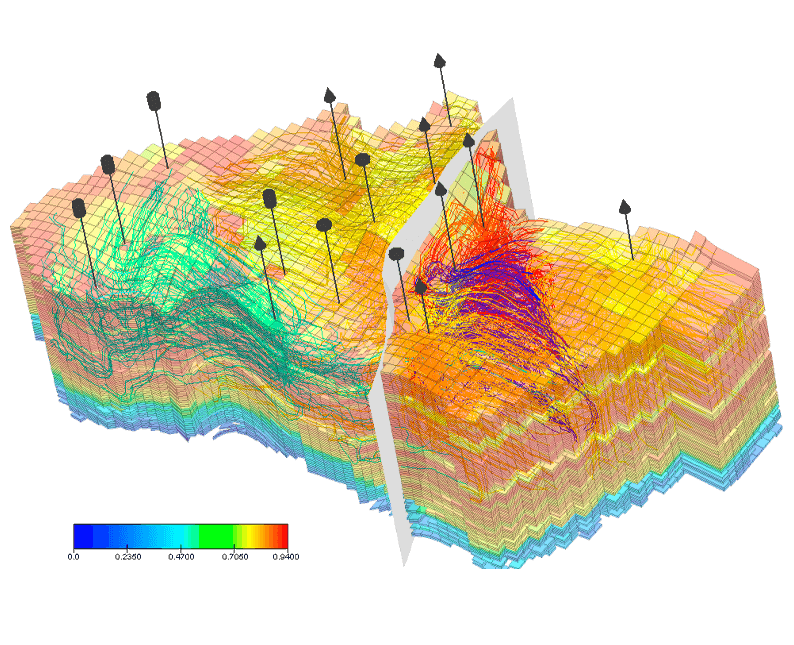 Geological and technological modelling and development monitoring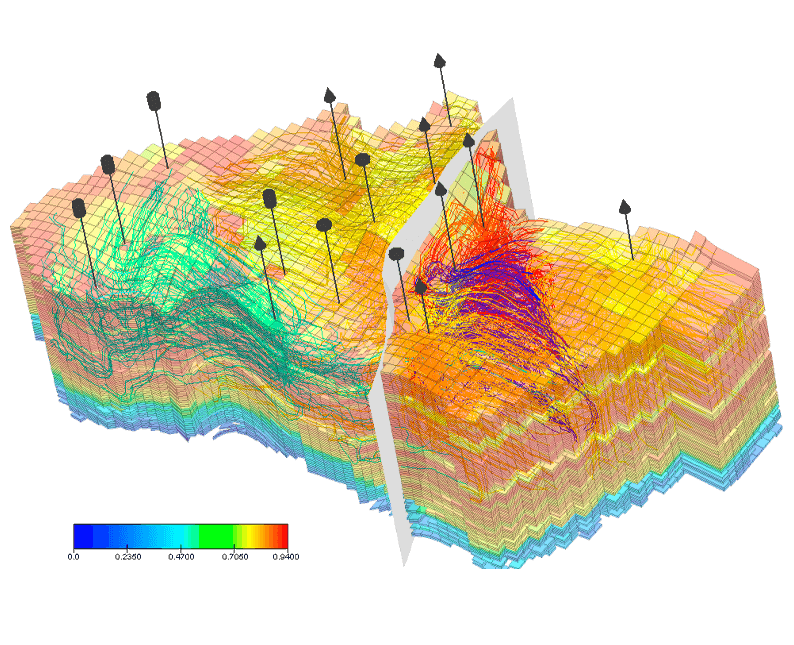 The company has more than 15-year experience in the field of geological and technological modelling and well development monitoring.
Specialists of our engineering center carry out the whole range of work from initial geophysical and laboratory data interpretation and designing of geological, hydrodynamic and technological models to multiple calculations and optimisation of object development strategy.
Geological and technological modelling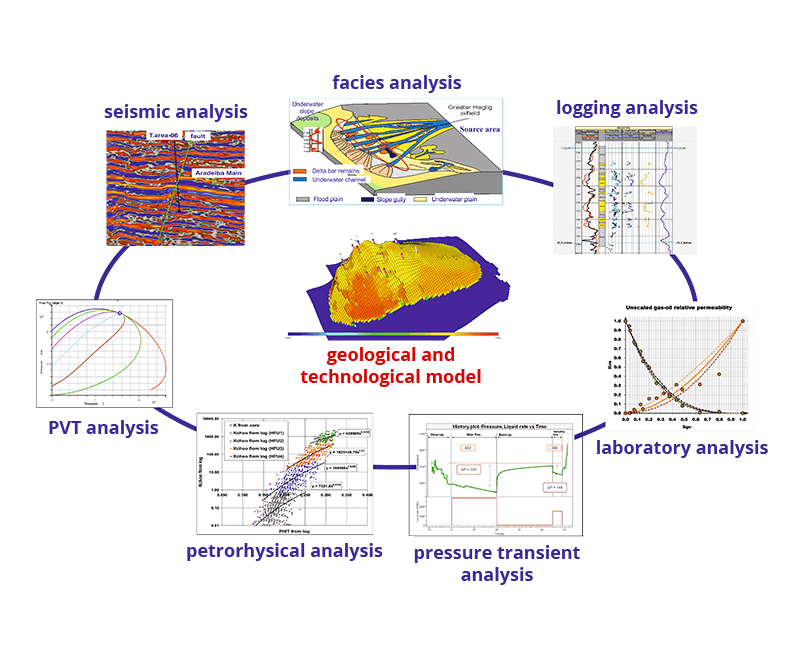 Key features:
detailed analysis of all available reservoir data is done starting with initial data;
detailed geological strategy is planned. It is taken into account in geological modelling of a field and it is the base for further calculations;
dynamic model of a reservoir is the most powerful and effective tool for development decision making;
dynamic model allows using a powerful and visually clear tool of development optimisation - streamline method;
Some advanced applications:
estimation of reserves, uncertainty analysis;
reservoir engineering and prospectivity assessment of new reservoirs;
recovery and ranking of different reservoir development scenarios;
analysis of current development condition, well intervention programme, incremental oil production calculations
waterflood system optimisation using analytical methods and streamline method;
Field development system optimisation
Besides complete and thorough reservoir analysis starting with interpretation and reinterpretation of initial geophysical and laboratory data with detailed modelling of all processes, our engineers are ready to offer prompt hydrodynamic monitoring of reservoir development, based on engineering express-methods. This approach doesn't require a great amount of input data and long-term preparatory work, but allows making prompt engineering-reasoned recommendations for well intervention.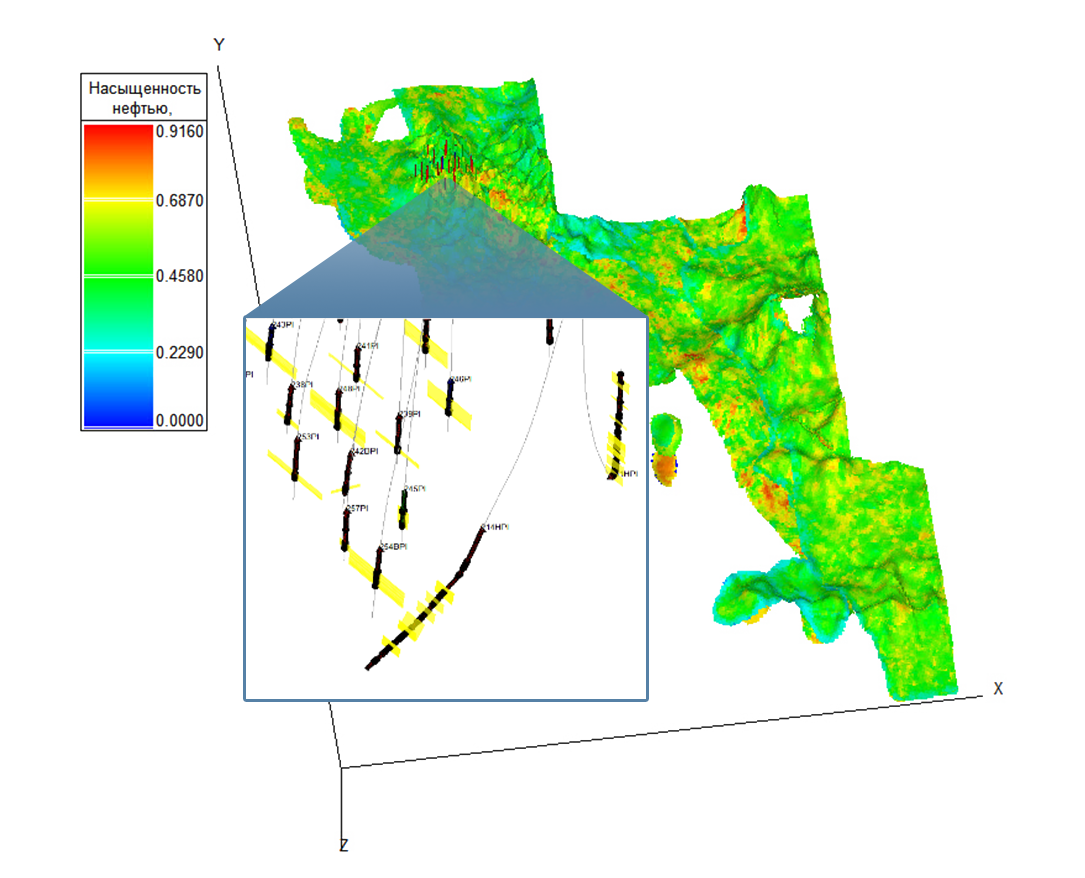 Key features:
analysis of current state of HC reservoir development, reserve recovery;
localisation of remaining reserves based on geological routine analysis and geological and technological modelling;
complex programme to improve the system of field development, to bring reserves into additional development;
Field experience:
Creating and improving conceptual geology and development designs for PJSC Gazprom Neft's Science and Technology Center (Gazpromneft STC);
Complex support of development of Kazanskoye, Boltnoye, Rybalnoye, Myldzhinskoye, Severo-Vasyuganskoye, Severo-Ostaninskoye, Ostaninskoye, Pindzhinskoye, Mirnoye fields in 2021-2024 for needs of JSC Tomskgazprom.
Computer assisted and multiple-choice adaptation of OGTM
Our specialists are ready to offer computer assisted and multiple-choice adaptation of ongoing geological and technological models (OGTM) using proprietary software. Applied in optimization algorithm uses proxy models (response surface).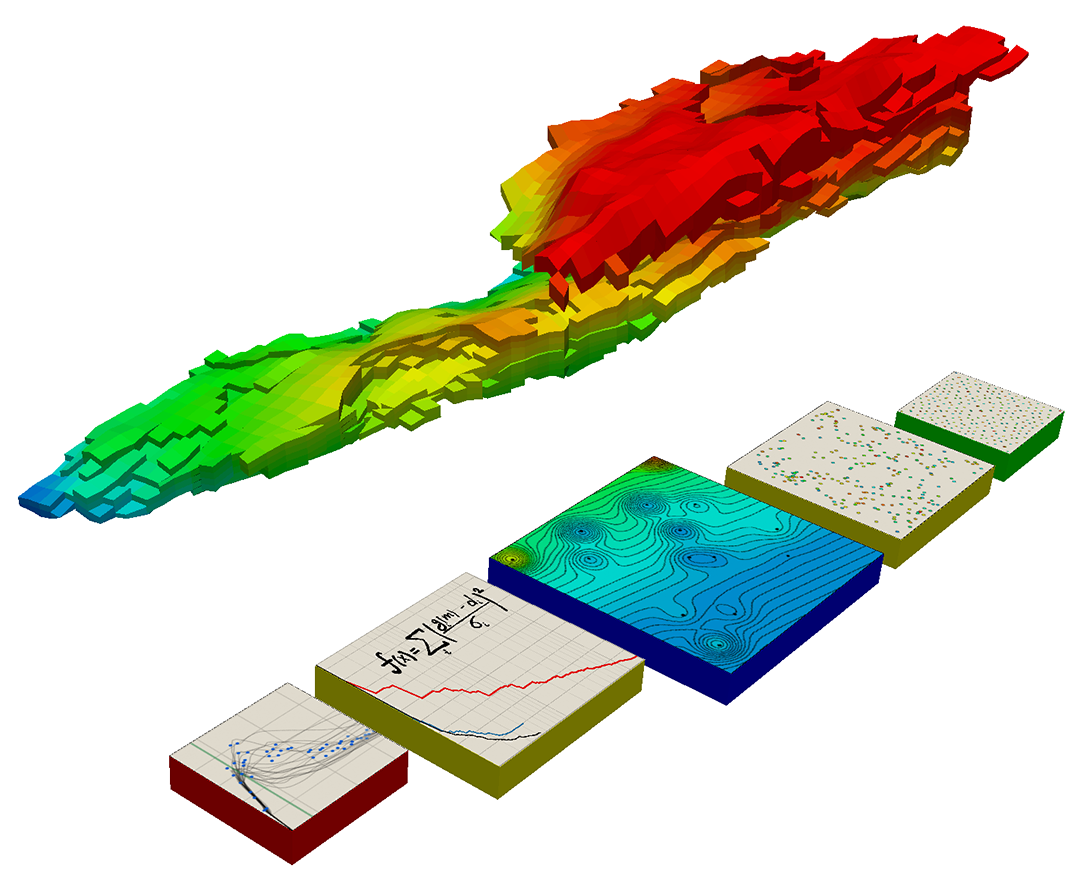 Key features:
Improved labour efficiency due to automation of routine tasks;
adaptation quality improvement;
field experience with models of more than 100 wells and 1000 modifying factors;
algorithm improvements are made during practical application;
the possibility of multiple-choice adaptation – as a step towards uncertainty estimate;
Field experience:
Support of OGTM JSC Tomskgazprom.
Expertise of geological models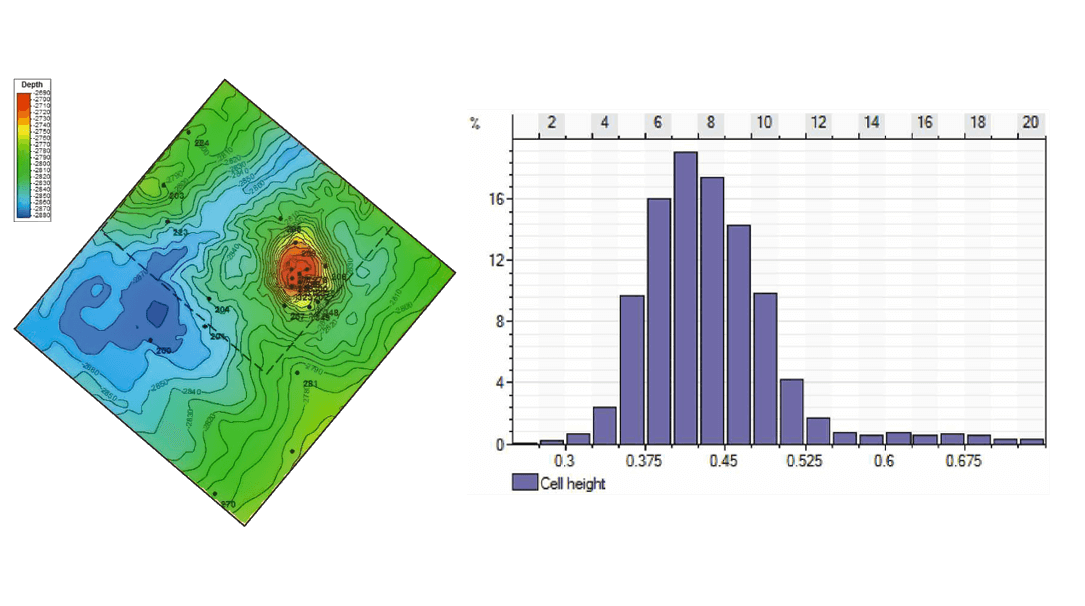 Goals and objectives:
Initial data completeness and quality control;
quality control of stratigraphic sequencing;
quality control of structural framework surface fitting and fluid contacts;
quality control of cell building of lithological and petrophysical parameters;
quality control of HC reserves estimation;
The range of results application:
contingency rundown of structural imaging;
selection of approaches to lithology modelling;
The selection of petrophysical base for modelling;
technique of saturation modelling and reserves estimation;
contingency rundown of calculated parameters;
follow-up studies to improve the quality and completeness of a model;
Technology process:
analysis and expertise of a geological model according to the national standards;
analysis and expertise of geological model on the recommendation of Zakrevskiy K.E.;
analysis and expertise of a geological model on the recommendation of a customer company;
recommendations for using other analysis techniques, modelling and reserves estimation;
Distinctive features:
automated system of model quality control;
expertise of geological models of reservoirs with pore space structural complexity;
expertise of models with structural and tectonic complexity;
besides standard results (report on geological model expertise) reports include geological models development points;
Hydrodynamic field monitoring (HFM)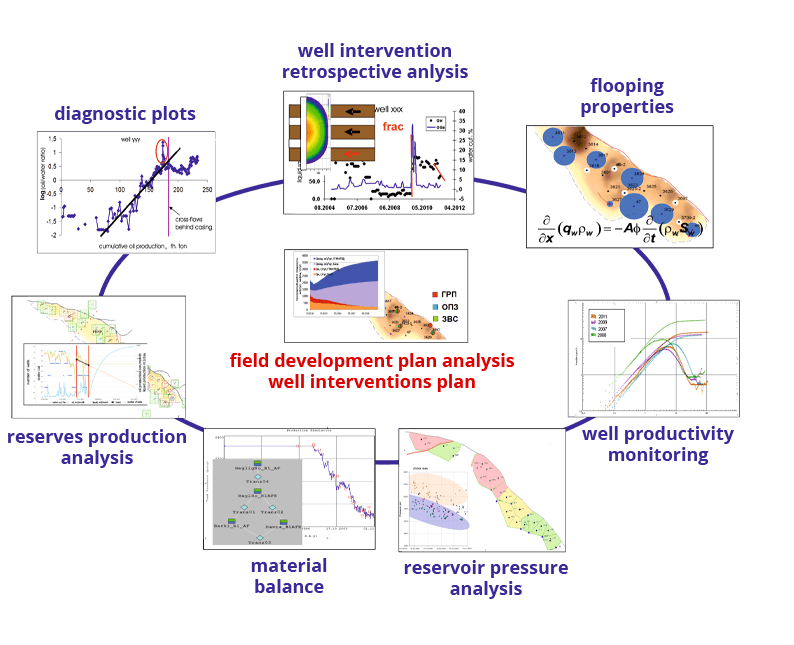 Goals and objectives:
improvement of subsurface management efficiency;
oil recovery factor increase;
incremental oil production;
The necessity of undertaking such complex projects is connected with the following factors:
reserve recovery complexity increase;
underexploration of most fields;
increase of resources necessary to analyze fields geology and development in more details;
lack of well-qualified personnel and work load of departments;
The whole complex of Hydrodynamic field monitoring (HFM) consists of the following stages:
generalization of available data, identification of current development problems;
designing and execution of additional testing programmes focused on eliminating uncertainties;
pressure transient analysis, production logging, tracer testing, PVT and others;
complex analysis of field development taking into account the results of new testing:

the analysis of formation pressure dynamics, watercut, productivity;
the analysis of displacement characteristics and frontal advance;
the analysis of well interference and reservoir connectivity;
the analysis of reserve recovery;
the analysis of injection to withdrawal ratio; material balance; Decline curve analysis, predicting of production performance and others;

Current modelling and optimization taking into account testing results:

structural framework building;
well logging interpretation, effective thickness correlation;
reservoir properties modelling, petrophysical functions revision;
the analysis of PVT, relative permeabilities;
estimatation of petroleum reserves;
history matching;
model optimization according to testing results;

designing well intervention and methods of oil recovery improvement dealing with development challenges, estimation of fracturing effect, side-tracking, bottomhole treatment, remedial cementing, perforating operations, methods of oil recovery improvement, optimisation of waterflooding systems;
monitoring well intervention programme, assessment of real effectiveness;
Distinctive features:
The programme is implemented within short time frames due to proprietary service subdivisions (SIAM MASTER Ltd. and TGT);
Complex analysis allows obtaining unambiguous representation about current development state;
Accurate modelling of work area, optimized according to testing results;
Calculation of well intervention with numerical (computer-based) and analytical methods allows getting high performance of activities;
Monitoring the execution of the programme allows its precise implementing and getting projection data;
Streamline models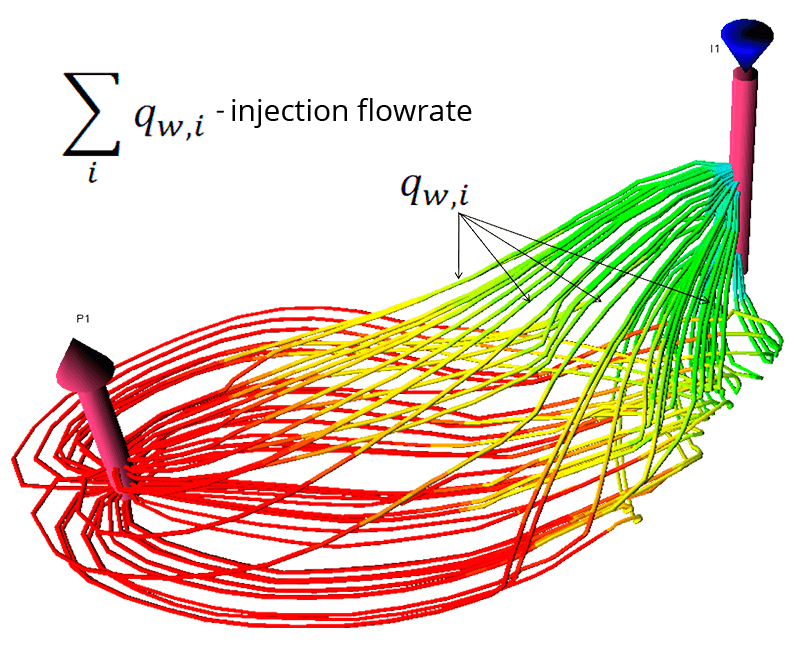 Goals and objectives:
Modelling and structuring of reservoir fluid flow;
Waterflood process optimization;
The search for by-passed HC;
The range of results application:
the analysis of well performance efficiency, the analysis of hydraulic efficiency;
mapping of active drainage areas and search for undeveloped areas;
the uniformity analysis of oil displacement to producing wells;
Services:
conversion of grid hydrodynamic model into streamline model;
reporting on mapping of throughflow, efficiency of well stock performance and waterflooding system;
recommendations on waterflooding system optimisation (limitation, redistribution of injection, cyclic injection);
Distinctive features:
detailed processing of streamline modelling results;
proprietary software for mapping of throughflow, determining well interference;
proprietary analytical techniques of searching for inadequate performing injection wells;