TSIIC SIAM presented new solutions in the field of wellhead telemetry
On the photo: company's stand in 2023

Trends of oil industry development
The 17th interregional specialized exhibition «Gas. Oil. New technologies for the Far North» was held on March 15-16 in Novy Urengoy. This is one of the most important event for the Russian oil and gas industry. This year more than 80 companies from all over Russia took part. Such interest in the exhibition is due to its special status: «Gas. Oil. New technologies for the Far North 2023» is an excellent platform for finding new partners and discussing modern issues in the industry.
The topic of discussion this year is the digitalization of oil production. According to the participants of the exhibition, innovative development and implementation of smart field technologies are a long-term trend in the foreseeable future of Russian industry. Today, almost all companies in the oil and gas sector are working on a digital well concept to optimize costs, increase productivity and increase the efficiency of the drilling process.
New solution for digital well concept — pressure gauges UMT-03
TSIIC SIAM always aims to be a leader on the market of oil and gas equipment. That's why we are constantly working on creating new solutions to make customers' work easier.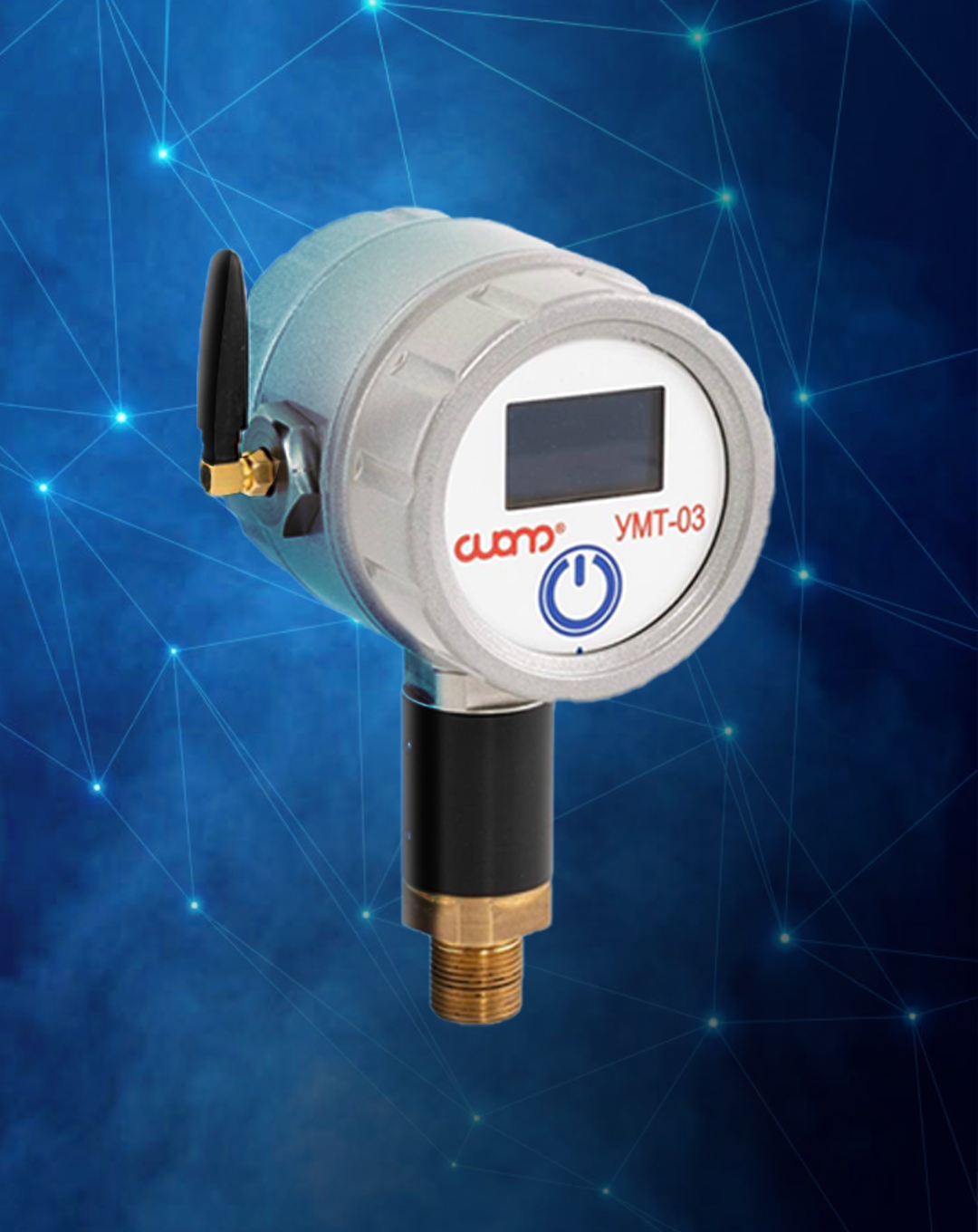 On the photo: pressure and temperature gauges UMT-03 is a new development of TSIIC SIAM in the field of well digitalization

At the exhibition in Novy Urengoy we presented our new invention for digital well concept: highly accurate digital pressure gauges of UMT-03 series.
New generation of gauges has a function of remote control and well parameters management that allows automating a big amount of operations: pressure and temperature measurement and registry at the wellhead of production and injection wells. Highly accurate digital pressure gauges of UMT-03 series can be adapted to solve technological problems in almost any field: from oil, gas and nuclear industries to community facilities.
Other advantages of UMT-03 are:
Standard protocols of transmission 4-20 mA (+HART modem) and RS-485 (MODBUS) allow integrating UMT-03 into automation systems and standard telemetry.
The built-in modem for wireless data transmission makes it possible to create wireless information collection systems with further automatic transmission of information over the Internet (GSM/GPRS/LTE, Ethernet).
The presence of internal memory and autonomous power supply make it possible to use UMT-03 as a stand-alone device, to carry out long-term measurements at a predetermined interval, and to download the results collected via USB or Bluetooth BLE interfaces to information processing and visualization devices (for example, a smartphone or PC).
Wellhead pressure and temperature gauge of the UMT-03 series is fully developed in Russia, which makes them an important element of the import substitution policy. For TSIIC SIAM customers this means improved protection against unauthorized intrusion, 24/7 service support and complete independence from the global market.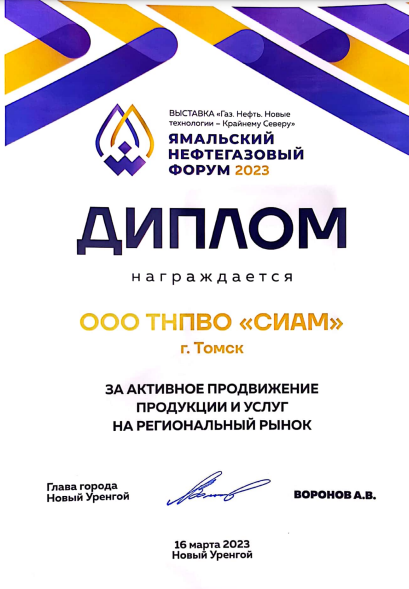 On the photo: certificate of participation in Yamal Oil Forum

Results of the exhibition
We want to thank the organizers of the exhibition for their work. This year, the Yamal Oil and Gas Forum once again proved its special status as a platform for discussing the latest challenges in the industry and presenting new equipment.
TSIIC SIAM will continue to develop its production to improve the work of oil and gas companies.
Thank you all for participation!